I have been thinking of writing a post about this for a while now, and now seems a perfect time to write it.
Note this isn't a look at me post, this is just my personal story and an example of what can be achieved when we really set our minds to something, no matter what the obstacle is.
The realisation
A few years ago, I had a long hard look at my life and realised that it wasn't exactly going in the right direction. On the outside everything looked great, I had my own home, a good job, plenty of friends etc. But dig a bit deeper and you would of seen my life wasn't exactly going in the right direction. I guess I may have been suffering from slight depression, during the day I worked at my job, during the weekends and evenings I drank excessively. I had been single 15 years so felt pretty empty inside.
I was also disabled with an artificial leg which stopped me from doing any kind of intense physical activity. So there were a few things I realised needed to happen:
I needed to find a way to increase my activity levels to get into shape
I needed to cut the bad things which were destroying my life
I needed to find myself a partner!
I needed to find a job in which I was happy and fulfilled
Physical Activities
I decided to take the plunge and get myself an artificial leg which would enable me to do more activity. The end result was I fell in love with walking, purely because I had not been able to walk any considerable distance before. Now I could knock out 5 miles before breaking into a sweat. I have now climbed Snowdon 3 times and intend to do much more.
Going from not being able to do any physical exercise to literally being able to climb mountains has changed my mindset and outlook on life completely.
I also decided it would get a good idea to jump out of a plane 🙂
Get rid of the bag things which are holding you back
When I looked at everything which I wasn't happy with, there was 1 thing which always kept on coming back, and that was alcohol. I wouldn't say I had a huge problem, I just could never have 1 or 2 beers, It had to be 4 minimum, or at weekends up to 12 (Yes really!) This was stopping me from doing everything I wanted to do.
So I stopped completely. I was probably one of the most difficult things I have ever had to do, but the most rewarding. If I had not have done it, I knew my life would be very different right now, and not for the better.
I had to change my social circle completely and had a immense help and support from a group of very special people.
I used the time I saved from spending countless evenings and weekends to better myself. To do exams, to join communities, to help other people, to be a better human being.
The photo below is before and after. Big difference eh!
Finding my wife
After being alcohol free for a year, I decided it was time to get myself a woman!! I had been single for nearly 20 years at this stage, so my confidence was pretty low! Luckily after a few months of dating I found the perfect woman.
We got married in July 2020 and she is everything I have ever dreamed of. Crazy thing is, she said she would never had looked at me if I had drank alcohol as he hates it!
I guess the one thing I learnt from this, is never give up!!
Career & Development
So now the fun part!! At this stage in my life I had been in IT for around 20 years. Had a shed load of certs, did the occasional blogging and turned up at the occasional user group, sat in the back and listened.
I was good at my job but was a bit bored as never felt challenged. At this time Cloud computing was taking off, so which my new found free time I ploughed myself into learning about Cloud Computing.
I set myself a goal of achieving Microsoft Certified Azure Solutions Architect Expert. I achieved that in May 2019 🙂
I am heavily into Citrix also so I also decided to throw myself into the Citrix community. I did a few presentations at user groups, wrote regular blog articles and was also awarded Citrix CTA!
I then decided to try and find a position in which I could challenge myself. I put the feelers out there but didn't manage to secure anything. Then in March 2020 I manage to secure a position working at New Signature UK as a Citrix & WVD Architect.
Now me being me, decided that to be effective at my job I had to learn EVERYTHING there was to know about WVD. So I labbed it to death, wrote blog posts about it, setup a user group about it, created a podcast about it.
And the result of all this: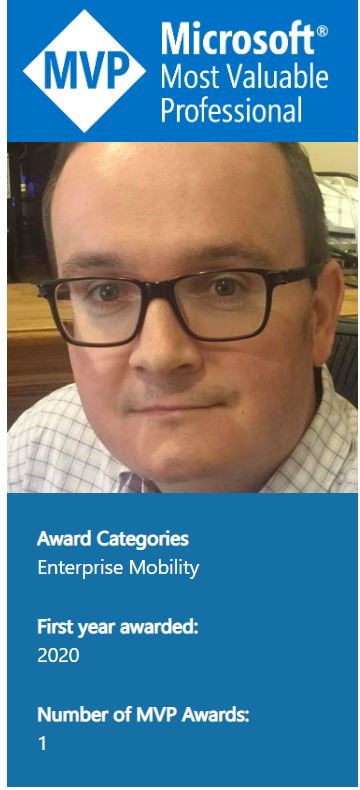 This is a culmination of EVERYTHING I have done. If you want something in life, get out there and MAKE it happen.
The other thing I will say it that things only changed for me when I reached out for and accepted help. We can only achieve so much on our own, but as a community, group and friends, you can achieve so much more.
I hope this post has inspired you to get out there and reach for your dreams, you never know what's coming 🙂